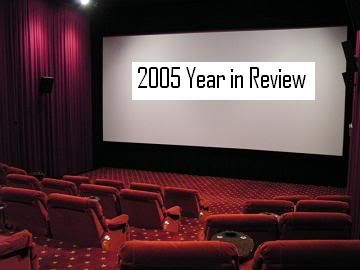 I think it was back in early January that I had pubicly expressed my disappointment in 2005 as a whole, beating to death the adage that some critics love to espouse at the end of
ev
ery
year. Shame on me for resorting to that silliness. I am reminded of the year 2000, curiously labeled one of the worst years by many reviewers in spite of
Dancer in the Dark, Crouching Tiger, The Cell, You Can Count on Me
and other masterworks making their mark that same year. The reality is that every year runs the gamut in terms of the movies; you have the masterpieces, and you have the atrocities. No one year can be absolutely termed "bad", "good" or "average". The good art is always there, if you know where to look for it (hint: it will likely not be found at your local multiplex). What I also failed to remember was that there was a wealth of films I had not obtained on DVD before making such a misinformed claim. And indeed, most of my favorite films this year were ones that I had missed out on during their theatrical runs. In that regard, I am glad I did not jump the gun in announcing my top ten before seeing those films, otherwise I'd be tearing out my hair editing and fine-tuning after the fact. Although there are some films I still would have liked to see before compiling this list (such as
C.R.A.Z.Y.
and
Pulse
[the original Kurosawa]), I think I'm ready to put 2005 to rest (especially after the exhausting awards season). And what better way to do that than listing the best fifteen (out of 103) films I watched from last year, in ranked order?
At this point, I am ambivalent about sharing my thoughts on the film year overall (such as fascinating trends, big disappointments, etc). I do not think it makes much difference me making the same observations many other critics and box office pundits have made. You know the drill - that
Penguin
movie (which I did not care to watch) made record-breaking numbers, a divisive film about racism in L.A. won the Best Picture Oscar, and the
Star Wars
saga finally took a final bow (let us hope). I
will
say though that it was certainly a busy, exciting calender; we had our usual blockbusters and under-the-radar independents, as well as the politically-charged bunch of productions. But most of all, what surprised me is how quickly it seemed to pass. Perhaps this is just a sensation that comes with growing older, but I can remember watching early birds like
The Upside of Anger
vividly (even what I ate that day, who I went with, etc). And now, it's a quarter through 2006, and those highly-anticipated titles are just around the corner. It never ends, and the circle continues...
What I am introducing this year as well are
The Marigold Petal Awards
. The institution's moniker may sound a bit off-putting at first, but I think every prize group has had some trouble with names and standardizing them in the beginning. And yes, I plan to continue them with each passing year. If you have not guessed it already, the title is inspired by the delicate and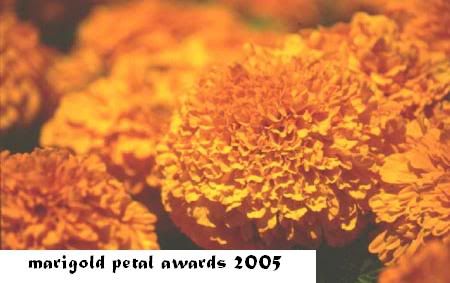 alluring flower featured in Mira Nair's
Monsoon Wedding
, one of my all-time favourites. The blossom is to me a symbol for life, happiness and love, while the film is a glowing celebration of music and the art of movie-making (all of them what I live for, except perhaps the love part). Once I considered the title, it stuck immediately; it seems the perfect way in which to honour my picks this year (representing organic growth, uniqueness and vibrancy - qualities I look for in a winner). Plus, at least it sounds interesting (like a Film Festival prize), moreso than "The Ali Awards" or something along those lines. The categories remain similar to those established every year by the Academy of Motion Picture Arts and Sciences, although there will be inclusions (such as Best Ensemble Cast) and omissions (such as Best Foreign Film, Animated Feature and Documentary - I have not seen enough to justify competitive races).
I think now is a good time to unveil the ones that just missed the list - the runner-ups. Starting off is Phil Morrison's
Junebug
, an endearing look at the tensions and changes exerienced by a small family living in North Carolina when a well-meaning newcomer disrupts the usual order. It is a quiet, perceptive film free of fussiness or "big" moments, and, I think, much more than a simple look at the clash between Red and Blue American state cultures. Unconcerned with plot machinations and feeling the need to fill the suggestive silences, Morrison and screenwriter Angus MacLachlan refuse to judge or "fix" any of their char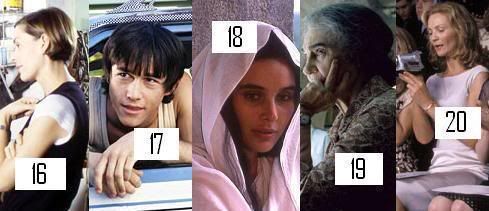 acters, and this is what proves to be the film's greatest achievement. Then we have Gregg Araki's
Mysterious Skin
, an effort I still am have trouble making up my mind about. But what I can affirm is that it packs a tremendous emotional punch, and even if you are put out by Araki's helming, it is impossible to not empathize with the two lead characters and their difficult journeys coming to terms with a shared, devastating childhood event. Deepa Mehta's
Water
has yet to open outside of Canada, but make sure you get a screening in when it opens near you in April (Fox Searchlight is distributing in the U.S.). It is a film that explores a restless time period in India's formation as a independent nation, as well as the oppressive power imbalances experienced by abused women, their only crime being widows. Steven Spielberg's
Munich
is next in line, and I salute him for venturing out into moral murkiness rather than moralizing as he has been prone to do. It is a difficult but rewarding film, and I look forward to a second viewing soon. Finally, there is Mike Binder's
The Upside of Anger
, a film that warrants consideration besides Joan Allen and Kevin Costner's acclaimed performances. It is far from a perfect piece, but it has a gigantic heart, having the ability to warm even bitter cynics such as myself. If you can leave small quibbles (such as the ending) at the door, there is great enjoyment to be had herein.