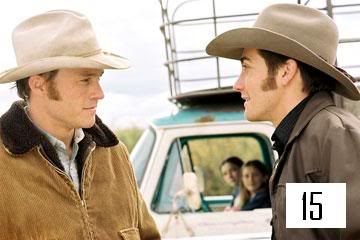 My biggest hope for Ang Lee's
Brokeback Mountain
(#15 - tie) is for it to be one day considered away from the so-called "controversy" of its subject matter, the backlash of parodies it engendered, and the now-legendary Oscar upset it underwent. Even I must admit that it was extremely difficult to experience the film on its own terms, even back in September at the Toronto Film Festival, because just about everyone had an opinion even when it was in pre-production. To be frank, I think Larry McMurtry, the co-writer of the film, got it right when he suggested, "Perhaps the truth really is, Americans don't want cowboys to be gay". The regression demonstrated on part of the media, the general public and even some of the film's actors was considerably depressing, proving that when we are given a chance to show our readiness to embrace what is different, we choose to remain wilfully ignorant. I was particularly irked by how the film's (subtle, yet present) sexual politics needed to be watered down during the promotion, but I digress from the point at hand... Ulltimately, say what you will, this is a haunting and understated tragedy of lives destroyed by a society characterized by intolerance. I saw the film three times in the theatre, and each time I marvelled at the mastery of Lee's composed observations, as well as the work by the excellent cast of actors (Ledger in particular, is in another class altogether).
Moment of confession: I have a terrible, sometimes alarmingly spotty, memory. Whether it is remembering where I last left my glasses or recalling specific scenes or lines of dialogue from a particular film (even if it is one that I absolutely loved), images and sounds escape my memory within minutes of having encountered them. It is a quality (or failing) I am really quite infur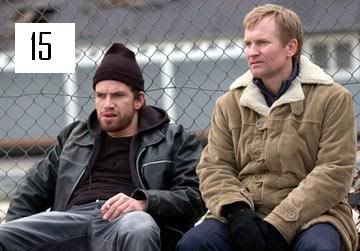 iated by. In regards to film, I have confessed that it takes me at least two viewings to really "get" a film, or imprint it elements of it in my mind. I tend to get so caught up in what is happening, it is difficult for me to be conscious of what I am basically doing (namely being a viewer, watching a movie). It is likely to be the greatest challenge to my efforts in becoming a critic, because that profession requires an individual to work under strict deadlines and form an opinion almost immediately. Yet Susanne Bier's
Brothers
(#15 - tie) somehow has escaped this fate, and various moments are easily accessible to my mind. Whether it is Johan Soderqvist's lyrical, disorienting score or Connie Nielsen's mysterious facial expressions (What is she thinking?, I wondered throughout), they are all contained within a book in my brain. This is perhaps a telling sign that the film is one that is difficult to shake off after it has said all it has to say. It is a drama that refuses to pander, a tale of adversity that avoids simple moralizing, and ultimately a story that does not enforce a specific feeling upon the viewer.
Link to original

Brothers

capsule Review
And now, I will change gears for a bit. Fortunately, the number of good to average films I saw this year far outnumbered the few bad ones. But I must give a shout-out to the two especially horrid features that also must be singled out as two of the biggest disappointments of 2005. The first, Martin Campbel
l's
The Legend of Zorro
, was anything but; an insufferable, pathetic retread of what was absolutely thrilling in its top-ten-worthy predecessor. One of its many transgressions is throwing a plucky young lad into the mix, Zorro and Elena's son, who has somehow inherited all of his father's fighting skills (and none of his wit). Add to this a humourless villain, an end piece lifted from
Wild Wild West
or any action film involving a train, and sloppy visual effects: the result is a thoroughly painful exercise in blockbuster filmmaking. The other dishonorable mention is Rob Marshall's crippled
Memoirs of a Geisha
, a film that had tremendous potential and yet managed to offend on every possible count. A exoticized epic that engages in the worst kind of dress-up cinema,
Geisha
holds no thematic substance, or any attempt at arguing a politics (and if it does, it is considerably problematic, namely that the best an exploited geisha can hope for is a benevolent husband). What's more, stiff acting, tired voiceovers and hideous aesthetics only exacerbate a lame reading of geisha culture as survival of the bitchiest.
Link to original

Memoirs

capsule Review